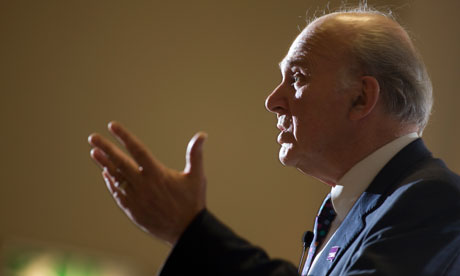 I find it absolutely incredible that Vince Cable has decided to come out and
plea to the "progressive majority"
to band together and squeeze through a Yes vote on the AV referendum, penned in for the 5th May 2011.
"It's been largely forgotten that Liberal and Labour MPs voted AV through the House of Commons but in 1931 the reform was never completed. Conservative governments have dominated ever since without securing a majority of the popular vote. It's time for the progressive majority in the country to rise above this narrow tribalism and support this reform because we need to make sure the progressive majority wins elections in this century and not the Conservatives as they did, by the back door, for two-thirds of the last century." - Vince Cable
Simply amazing. He complains about the Conservatives getting into power and yet was probably instrumental in brokering the agreement which has lead to the current Liberal Democrat- Conservative coalition.
I sincerely hope that people who didn't vote for the Conservatives, but who remain aggrieved by the spineless standing of the Lib Dems as coalition lackeys, see past their deficiency and take up the call to vote Yes on the AV referendum, and seize the rare opportunity to affect change in our political system.
This call for change may be being lead by the most hypocritical, spineless clique to date, but let us not allow their shortcomings to dampen genuinely progressive endeavour.
-chokobo-